The first single off The Franklys debut album 'Castaway', has been premiered over at Songwriting Magazine. Listen first HERE.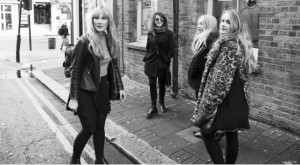 "Tonight's first (that's right folks) exclusive is courtesy of a superb London-based garage rock quartet who'll have your toes tapping"
"All girl London-based garage rock quartet The Franklys offer you a tantalising sample of their ridiculously catchy punk sound on their new song Castaway, ahead of the release of their debut album in Spring 2017.
Of their sound the band say: "We play garage rock with elements of heavy rock and punk, and have been described as "Like The Hives, but with better hair and make-up" and "Welding Kiss like rifferama with the energy and excitement of The Stooges and The Runaways."
The Hives are a fair reference point and we'll also throw The Vines and The Von Bondies into the mix. Why? Because we can. As always, though, it's up to you to dispute those comparisons by listening to the track below:"